ED Defiled 04:37, August 1, 2010: Founder's Duel Master Armor
Edited by Wira Kerenzz, November 26, 2010
How to get: Buy the 100 (credit)

Buy: N/A
Sellback: N/A
Description: From now until the end of January, players may purchase the Fool Duel Master Armor. This powerful, rare armor comes with impressive stat boosts and crucial defenses to give players an edge in battle. With a unique design for each class and gender and full color customization, players can create a look that is as eye-catching as it is intimidating.
Stats given:
Bounty Hunter: 1 Strength, 6 Dexterity and 3 Resistance
Mercenary: 4 Strength, 1 Dexterity and 4 Resistance
Tech Mage: 3 Technology, 2 Dexterity and 4 Resistance
As of Gamma Stage 1.1.2 the founders armour gained 10 potential enhancement slots, making it the most enhanceable armour ingame, as opposed to the 4 enhancement slots of all other armours.
The armour is also the only one to change with your class, if you choose to become a Mercenary after being a Bounty Hunter, your armour will adat to your class.
Image (s):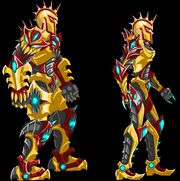 Ad blocker interference detected!
Wikia is a free-to-use site that makes money from advertising. We have a modified experience for viewers using ad blockers

Wikia is not accessible if you've made further modifications. Remove the custom ad blocker rule(s) and the page will load as expected.